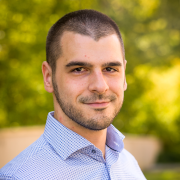 Biography
Steven Vanderstichelen (born 1990) is a post-doctoral researcher working at the End-of-Life Care Research Group at Vrije Universiteit Brussel (VUB) & Ghent University. He obtained his Master's degree in Sociology at Ghent University in 2014. In 2015, he joined the End-of-Life Care Research Group (VUB & Ghent University) as a junior researcher. He obtained his PhD in Social Health Sciences in 2019 and now works as a postdoctoral researcher. His main research interests and ambitions are to further develop knowledge and insights into volunteering in palliative care, the role of volunteers in facilitating access to care, community engagement, participatory research and the development of compassionate community models in end-of-life care.
Previous work:
From 2015 to 2019, Steven conducted research on volunteering in palliative care as part of the INTEGRATE project (IWT-SBO; 2015-2019). His findings were published in his dissertation "Volunteering in Palliative Care – A study of volunteer tasks, support, roles, involvement and collaboration with professionals in the Flemish healthcare system." In 2019, he was awarded best abstract at the 16th World Congress of the European Association for Palliative Care in Berlin (DE) and best abstract at the Nederlands-Vlaamse Wetenschapsdagen Palliatieve Zorg in Antwerp (BE).
Current activities:
Steven is one of the scientific coordinators of the VUB Interdisciplinary Research Program and Centre of Expertise on Compassionate Communities (IRP16). He also obtained funding from Kom op Tegen Kanker for a 30-month project named 'Thoughtful visitors in homecare'. This project will develop and test a training programme for community-based volunteers homecare, centered on identifying, describing and signposting palliative care needs. Steven supervises junior researcher Tom Van Ransbeeck (MSc.), who is the executive researcher of the 'Thoughtful Visitors' project.
Other affiliations:
Steven is a Steering Group Member of the EAPC Task Force on Volunteering in Hospice and Palliative Care, the EAPC Reference Group on Public Health and Palliative Care and the VUB Compassionate University project.
Location
Ghent University Hospital
Corneel Heymanslaan 10
9000 Ghent
Belgium