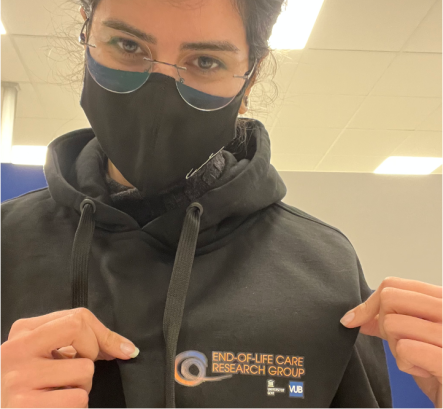 Hi,
I'm Golnaz Atefi. I'm a Marie Skłodowska-Curie research fellow of the "DISTINCT" consortium and a PhD candidate at the Maastricht University. Intersectoral collaboration with the VUB and moving to Brussels were parts of my secondment project.
Despite this difficult time of the pandemic, working with the End-of-Life Care research group was very structured, smooth, and safe.
Before my arrival, I was introduced to a kind colleague of mine (Joran Geeraerts) who supported my pre-arrival arrangements. Upon my arrival at the VUB I was given an office and my secondment started in a very friendly environment with a lovely circle of colleagues. I was immediately added to the mailing list of the department which kept me updated with the new covid measurements. Interactive discussions during the (remote) staff meetings were icebreaking, and disseminating our research was informative. Most importantly, regular and productive supervision meetings facilitated the project progress. My recommendation for future visiting researchers especially during the time of Covid that in-person meetings are limited will be more regular joint meetings with the host as well as the secondment partners. Continuous updates and clarifying detail of the project together with both teams (especially before arrival) will accelerate the speed of the project at the later stage. 
I'm grateful to my incredible secondment supervisor Prof. Lieve Van den Block for her continued support and guidance. 
Thanks to the end-of-life care research group and its inclusive and dynamic work environment, I will leave Brussels with inspiring experiences.